Men Too Matter Resources, Inc. is a registered non-profit organization founded to support vulnerable men. Those experiencing situations that prevent them from seeking assistance in dealing with their suppressed emotions, frustrations and challenges that have affected their family life, livelihood, and most importantly, their mental health.
Although over time, the stigma associated with those affected by depression, and the side effects due to antidepressant medication has dissipated, people still fail to get the proper help needed to live a full and healthy lifestyle.
Our goal is to help prevent men from acting on suicidal thoughts and attempts due to the shortage of resources readily available.
Men Too Matter aims to provide vulnerable men a safe and healthy environment that offers transitional housing, access to employment services, legal, mental and religious counselling in addition to various educational workshops.
Our trained team and network of professionals will carefully assess each client to tailor a program in response to their own personal challenges.
The ultimate reward is having the opportunity to help save lives and keep families together!
Ashmeed Khan, Founder & CEO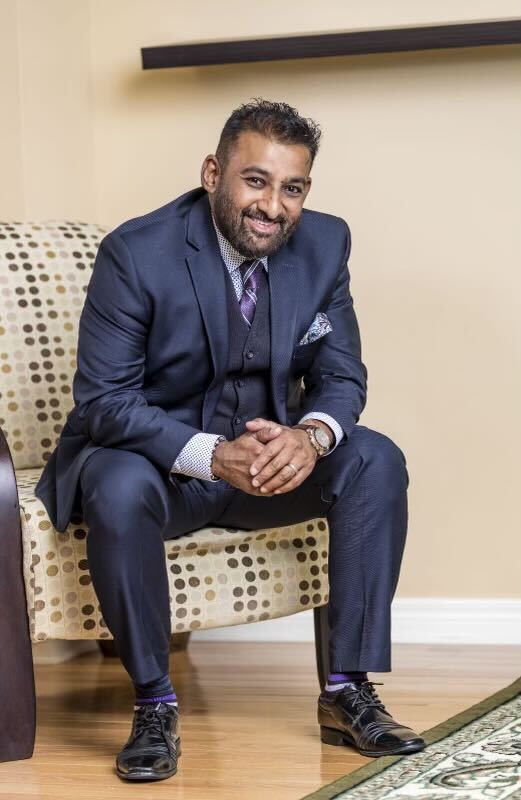 Ashmeed Khan, a successful entrepreneur & experienced politician is not only a caring community leader, he is also a friend, a brother, a son and a protective father of five beautiful children from his 25 years of marriage.
Through his personal & lived experiences, he understands and empathizes with the type of sensitive situations that cause significant distress in men associated with psychiatric disorders and challenges. Based on his own personal journey from what he has experienced and endured, he aspires to alter the dynamics of how men are perceived and foster positive change for men.
He started his printing business franchise in 2006 and expanded into multiple locations soon after. He is the recipient of Multiple awards and accolades such as the Business Excellence award and Business Person of the year award which were presented for his determination and resilience that has been attributed towards his proven business acumen.
Ashmeed was published in the Millionaire Mindset media as the 'Power Networker of Ajax' when he served at the Ajax-Pickering Board of Trade for over 17 years. He chaired it's Diversity Committee & early on was elected a Director. Additionally, he served four years as Ambassador of the Whitby Chamber of Commerce and was advisor on the Recreation and Culture Committee of the Town of Ajax.
Ashmeed brings over 2 decades of North American experience of establishing and leading in sustainable community development. In this role he saw a strong need to represent more marginalized individuals. He started offering his time to Ajax Community Fund Grants Task Force and was also drafted amongst the Top 10 Entrepreneurs and Surgeons to successfully build "The Shoulder Centre" at Lakeridge Health which to date has expanded, saved millions of dollars in revenue, and provided a better state of health & lifestyle for residents. He worked closely with the YMCA and John Howard Society, hiring candidates, then mentoring and teaching them his trade skills in the print industry to help prepare them for a better future.
He then ran for political office which he won and served his 4-year term as Councillor for Ajax from 2018-2022. In December of 2022, Ashmeed decided to focus full-time on community. He sold his businesses and is dedicated to his Men too Matter organization with the determination to create a safe space for men to thrive and reach their ultimate potential.
Ashmeed also advocates for a fit and healthy lifestyle & whenever time allows, he assists in coaching at the Ajax Boxing Club.
Catherine Asperin, Treasurer / Events Manager
Catherine Asperin is an experienced Events, Health Care and Property Management professional.  After high school, she pursued Nursing, but was discouraged when she learned the wait list was over three (3) years, so she eventually accepted work that landed her a role in the property management sector.
Employed in the housing industry, working in collaboration with community partners such as the Ministry of Housing, Ministry of Health, and CAMH, she has garnered valuable experience dealing with seniors with mental health challenges and youth with addictions.  
In 2017, Catherine founded Meraki Event MGMT., a local-based event management company.  
With over 15 years immersed in the entertainment industry and her passion for the arts and events, she forged strong relationships with renown individuals in the music and entertainment disciplines, is often commissioned to facilitate projects from celebrities to sports marketing event companies, including charity events, comedy shows, celebrity dance workshops, bowling tournaments, just to name a few.  Currently involved with 30-year Hollywood veteran actor, Bokeem Woodbine with his relaunched Rock band, '13 Purple Dragons.'